We await news of Rafa's return to competition. He has been out of action since Wimbledon and has pulled out of the Olympics, the Rogers Cup in Toronto, the Western & Southern Open in Cincinnati and the US Open.
We all wish him well and hope for a good recovery.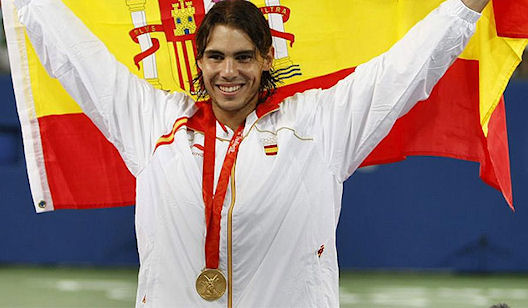 So sorry that you are continuing to have issues with your knees :( We miss you and hope to see you back soon.
MadAliceCudlip
We applaud you Rafa, in your time of anguish and utter disappointment, for your sportsmanship and selfless assessment of the situation. Remember we adore you for 'you', how you handle what life throws at you and we wish you well, always. x
Lillian
Everyone knows how much you wanted to be a part of the Olympics, the pride you felt when you won, the importance of the games for you, your team spirit and the greatest efforts you made to recover such a tough situation. Health comes first.
rafalove
You made the right decision, RAFA, even if it was hard. Take your time to recover, to treat your knees, to rest at home! You will come back stronger, no doubt about that! you're a fighter and an incredible champion! Tennis is not the same without you!
flo
Rafa, hugs to you. We know you're very sad but if anyone can come back strong and win again, it's you. There'll never be another like you and we send you our love and best wishes for a speedy recovery. We want to see you play for a long long time.
serene
Get well soon Rafa- I hope that you will be back soon stronger than ever. There is no player to match you in your humility, integrity and empathy for others. Best wishes always.
Ronane
Get well, Champion! Look after yourself, let your knees heal and come back refreshed. Tennis and your fans need you.
jabot
I couldn't imagine I'd have been "obliged" to write another message after another withdrawal. This time from the Us Open. It's now vital that your knees be cured properly, Rafa. Don't hurry the recovery, and come back when you're ready to roar.
PAT
Dear Rafa, so disappointed for you that you didn't get to carry the flag for Spain. Take care, get well, and see you on the tour again soon. The Olympics will be a poorer place without you.
rafandready
Rafa, I can only imagine how painful this moment is for you. I'll miss you during the Olympics. Take care of your knees and come back even stronger. Thanks for being so wonderful and for giving us so much. See you soon.
ralfie

Rafa, We hope you know how much your fans here at Vamos Brigade adore you. You have enriched our lives for so many years in so many ways with your spirit as a person and athlete. Take time to be well and strong - we miss you, but we will be waiting!
bdagirl
Rafa,it's a very tough moment for you and your fan. But please remember that all over the world,your fan are rooting for you and wishing your quick recovery. I'm looking forward to seeing you soon!
rafalily
Dearest Rafa, we are all thinking of you and sending you our best wishes for a healthy recovery. Hope to see you soon xx Vamos Rafa!
AggieMac
Get well soon Rafa , we are all waiting for you and wishing you to be healed as soon as possible . we are looking forward to seeing you again . we miss you so much . Get well soon and vamos Rafa
nona
Stay strong. Take heart from the millions of supporters who wish you well.
oliva
Rafa, you have shown your true character once again by thinking of others in your decision to withdraw from the Olympics. Your integrity is even more impressive than all of your accomplishments in tennis. Rest those knees, and come back hungry!
dafunk
You will be very much missed at the Olympics but you made the right decision. Hoping very much that you will be fit and well and able to compete in the US Open. Be proud of all you have achieved.
AliceW
take care and hurry back.you are the best and we all will rally around ya. i love tennis because of you.rest and get well , mind over matter.stay strong . you will prevail again.love always your june 3 1939 birthday mate. see you winn at the OPEN
megri
"Si te encuentras con el Triunfo y el Desastre,trata a esos dos impostores del mismo modo". Kipling también te admiraría. ¡Vamos Rafa !
LEONOR
Des�andote una recuperaci�n total para que puedas seguir disfrutando (y dejándonos disfrutar) de tu carrera. Todo lo mejor siempre!
bebe

Rafa, I wish you a good recovery, and a healthy return to the courts. We'll all be here when you are ready. Vamos!
rudy3
So sorry that you are still not fit enough to compete - wishing you a return to full fitness as soon as possible . You are very much missed - it is not the same without you . Much love.
suehan
Rafa, please know how much your fans love you & support you. I know that you'll come back even stronger than before. The unselfishness & kindness you showed is amazing. Yet another reason we love you so much. See you in Cincy! Rest & heal. VAMOS!
jharper
Dear Rafa, so very sorry you will miss the London 2012 experience. The enormously tough decision you have made in favour of the Armada & your country as a whole shows just what an exceptional, selfless champion you are. Miss you, with love LL xx
loobyloo
Rafa, you are a special person and a special athlete! There is no one like you! As your friend, David, says eres el mejor! I wish you all the best as your recovery continues. I look forward to welcoming you back to the court in Cincinnati! Vamos!
ana canada
Wishing you a very speedy recovery and I am looking forward to seeing you back to competition as soon as you are well. You are in my prayers and I only hope you will come back to tennis very soon because it isn't the same without you. Bless you, Melxx
Mel
Get well soon Rafa. Your fans love you & support you always.xxx
parrott
Hola Rafa! You were amazing in Roland Garros & the whole clay season. It would have been a dream for that to continue, but not to be this time. You are so strong & brave, wonderful things can happen again! Get well soon, & know how much you are loved!
Ellie
Rafa I wish you a speedy recovery! You exemplify the spirit of the Olympics with your unselfish attitude. Thank you for being an example and an inspiration throughout your career. I'm looking forward to more years of competition from you. VAMOS!
bluebird
Rafa please relax and enjoy your recovery time away from tennis doing what you love with those you love ....your return to tennis when you are ready will be joyously celebrated by those who love you all over the world!!!
rubytuesday

Rafa, you are a champion, no matter what. You have achieved all your tennis goals. The important thing now is to get healthy. The Olympics has lost its spark without you there. Your fans love you and want you to be happy. Keep your chin up!
cmac
Rafa! Recuperate pronto. Estoy mandándote toda mi buena onda desde Arg porque quiero verte bien y sano. No hay un solo dí­a que no piense y desee que te pongas bien! Rafa get well soon! I'm sending good vibes 'cause I want to see you happy! =)
*Marí­a Laura*
Rafa,I am saddened that this time you were not able to achieve your dream to be flag bearer. However, I am happy that you are taking the time you need to recuperate fully. Rest up and good luck <3
Hanzy
Missing you Rafa and hoping that you get well very soon. We love and support you always xx
tiggi
Rafa, you are a force for good in the world, a champion and a sportsman like no other! Hope your knees and your heart heal up soon. We love you and want to see your beautiful smile light up the tennis tour again.
ladydks
Dear dear dear Rafa, so sorry that your injuries kept you from the Olympics. I had one chance to speak to you at the Australian Open 2009. I said, "thank you for being you". It is still the true. You are an inspiration and a joy to so many. Thanks
silvamine
un fuerte abrazo Rafa ! Ten cuidado de tí ! eres un gran campeón y estoy segura de que lograras muchas victorias mas ! Mucho animó y espero verte pronto en la pista !
Paski
Dear Rafa, so very sorry you must miss The Games but wishing you a very speedy recovery and look forward to seeing you at The US Open!! Vamos!!
schtz62
Darling Rafa, I hope you can feel the overwhelming love from around the world enfold you and comfort you in your deep sadness. Your shining spirit brightens all our lives and we know that you will soon rise up with joy in a new day. Vamos for ever!
rafa4eva
I know it was difficult for you, but I believe you made the right decision for yourself no matter how hard it was. My best wishes for a fast and complete recovery. I will always support you. VAMOS!
Ayden

Rafa we just want all the best for you, take time to heal and roar back into your best form, your spirit still shines brightly in our hearts, we miss watching you play tennis but will wait patiently for your return. Vamos, Rafa take care of you!
CarolBBohan
Take all the time you need to be fit again. Your fans will be waiting anxiously until you come back. Tennis is just a game and your health is more important than the Olympics. I will miss seeing you there, but you made the right decision.
tennisgrandmom
Get well soon . Looking forward to see healthy happy Rafa. I'm always cheering you.
snowgoose
Dear Rafa, I am sure with millions fans' love and support, you will be back in great form soon.
luvrafa
The Olympics will miss the World's greatest sportsman, Rafa. Get well soon, champion. We love you.
Janken
My thoughts and prayers are with you Dear Rafa. I believe in you . Get well soon and be happy.. Tennis needs you. Best wishes and love from Istanbul.
Neyire
Rafa, Your family, friends and fans support you during this difficult time. We understand why you had to make this heartbreaking decision . But we look forward to the U.S. Open and the rest of the season. Rest well and take care of those knees.
Ann
Dearest Rafa, Your fans support you 110%. What a heart breaking decision you had to make. But as the great man that you are, you were thinking of your fellow players, not yourself. A speedy recovery to come back stronger.Take care champion.Much Love
ria4161
Hola Rafa, My heart is very sad for you at this time. You must know deep down that you have done the right thing in withdrawing from the Olympics,although it must have been the most painful decision that you have ever made.Luv you always,hugs and xxxx
dawny
We send you our love and support always, dear Rafa. May you heal and come back even stronger. You are a remarkable young man, we love you!
LynneH

Get well soon dear Rafa ! I am sure you'll come back stronger and well rested. See you soon dear Rafa !
odile
Seems so unfair but remember you are loved! Get well soon xxx
alegriaH
The Olympics experience in my home country will be much poorer by your absence.Rest as necessary & we'll see you back in your rightful place soon.xx
woody
Take care & heal well Rafa! At IW I told you "We support you every single day!" Now more than ever! You virtually carry your country's flag always. Spain could not be better represented in all you do daily. Sending you tons of love & healing wishes!<3
suzyq
We miss you but are glad you are taking the time to recover fully. Looking forward to seeing you play again at your highest level - without pain and with fearlessness, power, and joy. VAMOS, RAFA - FOREVER!
elise
Though you will be hugely missed at the Olympics, the way you have responded to the situation, as ever, leaves me in awe of your generosity of spirit. Rest up & feel better, Rafa, as we'll all be waiting for you, and supporting you every step of the way
JLB
Get well - really well - soon, Rafa.
Denizen
Rafa, so sorry you cannot take part in the Olympics. Take care of your health, this is the most important, and you will come back even stronger !
Lucie-Ole
Every little thing is gonna be allright, Rafa. Looking forward to seeing you play again.
Attitudette
I know it's been a hard week for you Rafa, but I know you'll persevere and come back at 100% because you are a true champion on and off the court. Although I'll miss at the Olympics, nothing's more important than your health. Get well campeón!!!
dria

You have the spirit of a true Olympian. So sorry you are unable to be with us here in the UK and I hope you have plenty of time to recover and be "with colm" for the rest of the season. Besos xxx Continuing good wishes for your recovery Rafa.x
daisy
Get well fast Rafa! Tennis is really not the same without you, it's all drab like a day without sun. Your fans miss you a lot and we're sending you "besos y abrazos" and all our best wishes for a prompt recovery. Mucho amor
veronique
In mind and spirit, Rafa, you will be at the Olympics with all of Spain, especially with your friend Pau...and you millions of supporters In 4 years, you will be ready once again. See you at the US Open...maybe even Toronto if we are lucky enough.
hiker23
Rafa, I want to send you tons of hugs for this difficult moment. I'm sure you'll be back stronger next time you're on court. I will be looking forward to it! As I always say, you deserve only the best. Get well soon and have a nice rest! Love you!
piliii
Dear Rafa, I wish you a good and fast recovery. Tennis isn't the same without you. Looking forward to seeing you on a tennis court again.
alexa
Stay strong, Rafa! You will have another chance four years from now in Rio on clay! Get well, take care of yourself and come back to us healthy again. I look forward to seeing you at the USO! You have the love of millions! Take care!
Nativenewyorker
Vamos Rafa and wish you speedy recovery
seoklikee
Dear Rafa, may you fully heal so that we'll see you playing again soon. WE MISS YOU, but we want you to take all the time you need to be well, strong and happy on court & off! VAMOS!
danielle12303
We all are behind you. Get well soon.
rc
So sad you cannot compete, sad you cannot carry the flag for your country, sad that you will not experience the spirit of the olympics, you above all are the embodiment of that spirit. Rest and recover well Rafa. A huge hug x
feetofclay

I respect you very much as a human as well as an excellent tennis player. I miss watching your tennis game for some time, but your health is more important than anything. Please concentrate on the knee treatment. I'm looking forward to your comeback.
scully
Sweet Rafa....If we could heal your heart and knees please know that we would; so many share with you your joy and triumphs in life just as we suffer with you in your pain - we will always be here in love and spirit and will wait as long as it takes
jackieg
Rafa, I hope you know how much you are loved. When your heart breaks, my heart breaks too. When I was very young, my mom used to tell me "Life is full of disappointments"and "This too shall pass" You're the most remarkable person I have ever known.
Jamie
Rafa, I whish you a complete and speedy recovery. Come back to tennis soon... the whole game is so dull without you!
coollizzie
RAFA,you have many fans who supports you. We hope to see you soon on court competing.VAMOS!!!
maria casia
Dear rafa, please remember, April showers bring May flowers. You can come back! I'm waiting. >3<
pofa
Estare siempre contingo en los momentos buenos como en los difíciles como hoy !Que te recuperes pronto para seguir ilusionandonos en cada partido. Animo crack . Un abrazo fuerte desde Francia
dani
Dear Rafa, sending you lots of love and get well wishes. We miss you very, very much. Tennis is never the same when you are away. Take care of yourself, and look forward to seeing you when you are fully recovered. x
anneka
Rafa - Sorry that you must miss the 'Olympic Experience' - everyone knows how much you were looking forward to it! But, we will be here for you, whenever you are able to return fit to play. Your fans are legion, and we will not desert you!
rotini
Rafa,I know it was difficult to withdraw from the Olympics; however, nothing is more important than your health. We will stand by you no matter what. We love and get well soon. I can't wait to see u back in action. I am praying for u and ur knee
Ripal Patel

Much Love and support to you Rafa. I can't imagine your disappointment. I hope you can take comfort knowing how much your country and your fans love you!
Holly
Be well. Looking forward to your return to tennis. Just two more chapters to read of your book: RAFA. Thanks for sharing.
Sandra of Rhode Island
Rest well enough Rafa. We know that everything happens for a purpose. We are with you all the way!
eileenhb
Stay strong Rafa, recover + Get well soon. You are loved and held in high esteem the whole world over.Millions of cyber-hugs are en-route to you from all your fans including a big one from me at VB. Vamos!
Rafanna
So gutted you can't defend your gold medal at the OG and compete for your country with your team mates. Wishing you a speedy recovery. Vamos!
Ging
You are the best. Viva 2016. You can do it. Vamos Rafa.
frederique
Pain past is pleasure. You have our whole-hearted support. Love you.
Ivyariel
Abrazos, Campeon. You are and always will be a magnificent credit to your sport with your talent, generosity, and humility. You have achieved more than many can even dream of so please remember all that you've accomplished. Espero que mejoras.
yasmin22
Ánimo y paciencia, querido Rafa, no desesperes y vuelve a las pistas cuando te sientas bien y preparado para competir, que aquí estaremos esperándote siempre. Te queremos, Campeón.
aiki
Beloved Rafa, don't be sad. Accept what can't be changed. What looks like a tragedy now may turn out to be a blessing. What would Son Goku do if he was injured and couldn't fight? (I don't know, but you probably do!). Courage, Braveheart !
tattie

So disappointed for you. I was so anticipating seeing you leading the athletes into the arena. Please get well and come back stronger than ever. You will always be the gold medal holder to us.
stroudgirl
Olympics is not complete without you Rafa!! Get Well soon!!
pricelessme22
Campeones, cuando no juego tenis no es interesante para mí. Disfruto de sus victorias y esperamos su regreso al campo. Todo lo mejor!
nataly_s
Please don't give up. The whole world is watching and many are hoping that you will win again so soon! Best wishes and good health.
One of your fans
give that knee all the time it needs Rafa--we wait on your return,and support you all the way to your next success.
mickeymouse
C'mon Rafa we are all with you!!!! This wasn't unexpected. Come back strong in Cincinnati -- Djoker and Federer are in pieces now, you can win the US Open, you have a great chance!!!
The_Italian
No matter where you are and when you will come back,we Rafans will be waiting for you!Lovely Rafa!
Rafantasy
Good to see you on the tennis court again, Rafa. I hope you will soon be playing great tennis again, tennis is just not the same without you.
tamsin
Missing you on the circuit. Can't wait to see you back fully fit and healthy. Take your time, we'll be here for as long as it takes. Love from Scotland.
Karen42
All I want is for you to be healthy and happy, Rafa.
Maggy Bassett
Dearest Rafa - sending lots of good wishes and love to help your knees heal. Take your time, we will be here when you return. We are bored with Rafa-less tennis, but your health is the most important thing. Vamos, our champion! xoxo
itsme
Hola Rafa, que lastima que te pierdas de muchos torneos. Espero verte muy pronto,recuperado y con el puño ganador arriba. Cuidate mucho y animo. Te queremos!!!
PaTxy
As disappointing it is to have to wait a bit longer to enjoy watching you play, it's good to know that you're taking your time to go back to competitive tennis. I wish you a speedy and very strong recovery
Moondancer
Rafa we know how hard this time is for you. All we can do is offer our support and assure you that the most important thing for us as fans is for you to be completely healed when you step on court again. Take all the time necessary - I wish you, as always,
Blessed
Buena Saluda!!! Vamos Rafa!
gabcsi65
So sorry you have had to pull out of the US Open. Wishing you a speedy and healthy recovery. Tennis isnt the same without you. #YNWA
Jan
Dear Rafa, Will always be your ardent supporter. Will pray for you everyday. phung
phung
Aloha Rafa...we miss u on the tour but ur health is more important. Will be praying for a speedy recovery. Take care Champion!
alli
¡Vamos, Rafa!