Last week Rafa made an appearance on El Hormiguero (Spanish for "The Anthill") which is a Spanish television program with a live audience focusing on comedy, science, and politics. It is hosted and produced by screenwriter Pablo Motos.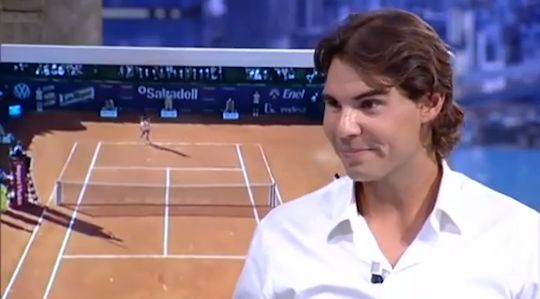 Screencap by MAC
Here are the videos for those who missed it.
The beginning of the show
- Rafa entering and talking to Pablo for 10 min while they they watch and comment on some clips
At 2:47 there is a clip from Rafa's quarter final loss to Ferrer at the Australian Open in 2011, with Spanish subtitles of what he yelled in Mallorquin (he sustained a muscle tear in his left thigh at the very beginning of the match but hobbled on till the bitter end).
Malimeda
's translation of those subtitles:
Rafa: "Hamstring! Javi, I've got a muscle tear for sure! I've got a muscle tear for sure! A muscle tear for sure! Toni, I'm in the quarterfinals of the Australian Open and I'm not retiring even if I crap myself!"
Rafa owns up to his obsessions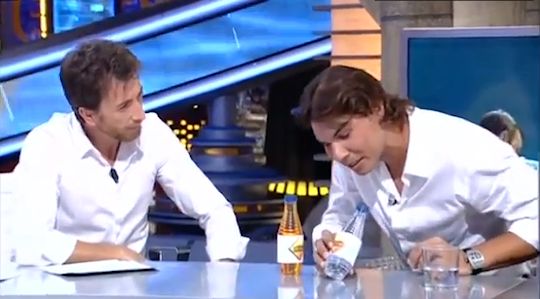 Screencap by MAC
"Lo manía de colocar las botellas puede tener solución, lo de los calzoncillos es imposible…" (Translation by
malimeda
: "The obsession of placing bottles could be resolved, the one with shorts it's impossible...")
Es test supercomprometido del tenis
with the puppet ants Trancas and Barrancas. (Their names are taken from the Spanish expression "a trancas y barrancas" which means "in fits and starts".)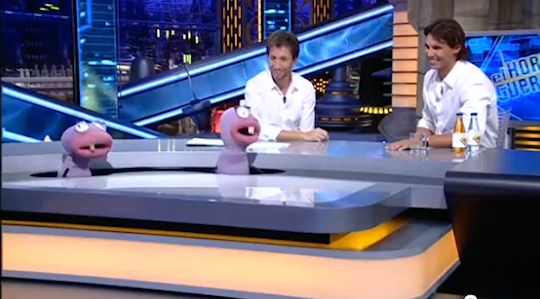 Screencap by MAC
This is
piliii
's translation of their questions and Rafa's answers:
- Have you ever used the Ensaladera as a salad bowl? "Ensaladera" means literally salad bowl in Spanish. Rafa's answer was no.
- Have you ever looked at the strings in your racket as if you've made an error because of them? Rafa's answer: That's very important, you always have to blame the others.
- Have you ever let a banana peel fall next to Federer's bench to make him slip. Rafa says: No, I've never done it, but it would have been convenient in some particular occasions.
- Have you ever "accidentally" hit the tennis ball in your opponent's "balls"? Rafa says that sometimes you don't have an option and you target the ball at that place but in an involuntary way.
- When you win and you got a call from the King, how do you have him in your phonebook? As Juancar, His Majesty, Sofía's husband, The King? Rafa says he does not remember it.
Partido de tenis con descargas eléctricas
(Google translation - Tennis match with electric shocks)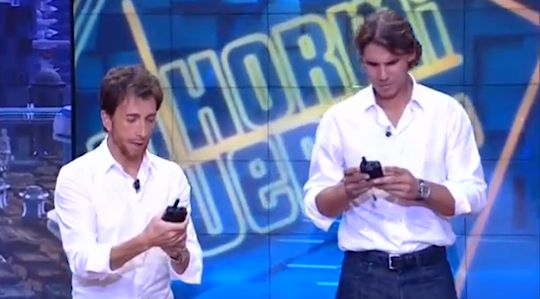 Screencap by MAC
Rafa and Pablo give electric shocks to players.
Magic with Jandro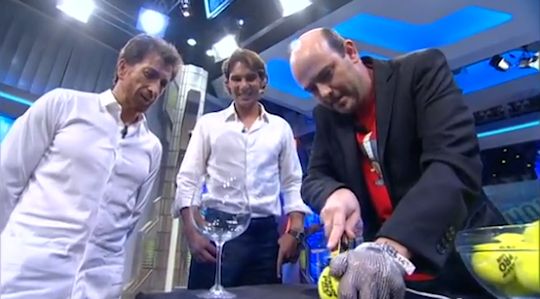 Screencap by MAC
Science with Marron
: Pelotas de fuego (Balls of fire)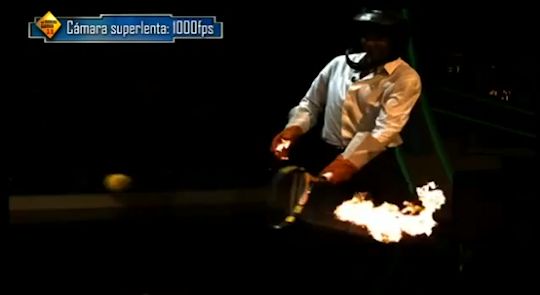 Screencap by MAC
This section came with the warning "No Hacer en Casa" or, to put it in English, "Don't try this at home".