At the beginning of this week, in addition to two radio interviews, Rafa also gave
a long interview to Diario de Mallorca
. It's more or less the same material covered in radio interviews, only collected in one place, in written form and with complete answers (as opposed to bits and pieces of his radio quotes in various scattered tweets and articles).
Here is
malimeda
's translation of the article.
'Maybe this lay-off allows me to lengthen my career a little more'
Rafael Nadal Parera (Manacor, 1986) is happy. For the first time in the last six months he does not feel discomfort in one of his knees, taking him down the road of bitterness. Fresh out of shower, he explains to Diario de Mallorca his feelings, how he noticed he was missing "the adrenaline of competition" the most and how he faces winning again "as an exciting challenge".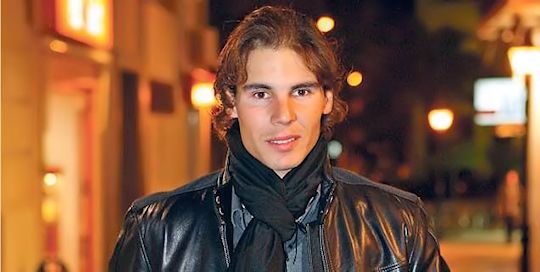 Diario de Mallorca
Saturday, Dec. 8, 2012 06:50
RICARD CABOT Q: "What has been on the increase, uncertainty or hope?"
A: "
Hope. In the last month and a half the progress has been quite good. I am very pleased.
"
Q: "Your plans are the same, coming back at Abu Dhabi and later on going to Australia."
A: "
That's the schedule, but let's not deceive ourselves, it's five months since I was last competing or practicing at a high level. If I'm able to practice at a high level in the remaining weeks I will be able to go to Doha with the ambition to compete and play, without expecting any result at all.
"
Q: "And to think about winning in Australia is an illusion at the moment."
A: "
It's very difficult to get a good result from the start. I hope to be in my best condition by the end of February or at the beginning of March, well prepared physically, tennis-wise and mentally.
"
Q: "What has been the worst, being laid off for these six months?"
A: "
Main thing, not being able to play fit at Wimbledon, and then when I had to give up the Olympics. And later on, the uncertainty of not knowing when the knee would start to get well. The doctors said it was not a very complicated injury, but the fact is that the knee was not well. The first three months, without seeing any progress and going to the gym without getting results, that was tough.
"
Q: "Did you get discouraged?"
A: "
I am quite a positive person, and I had my team and my family to help me in these difficult moments. I was fortunate to be with my folks.
"
Q: "For the first time in a decade you have spent half a year at home. Have you felt strange, having discovered forgotten pleasures?"
A: "
I am quite a family man, and when a tournament ends, if I can, the first thing I do is going back to Mallorca. Nothing has changed.
"
Q: "Have you noticed any pressure to return on tour?"
A: "
No, on the contrary, I'm grateful to the sponsors who have understood the situation and have not raised any objections. They have supported me at all times. Maybe this lay-off allows me to lengthen my career a little more.
"
Q: "These are different injuries, but Del Potro had struggled a lot returning to what he was. Are you afraid the same might happen to you?"
A: "
What has to happen, will happen. It's the beauty of life in general, it's a challenge for me. I know it will be difficult to be winning again all that I have obtained in recent years. I will put in all the necessary work, always thinking positively.
"
Q: "An injury of this type should be useful when assessing everything in its right perspective and relativizing the fact of being number one or not."
A: "
Being number one is not a priority at all. Either you are or you are not. It depends on winning many matches and being spared of injuries. I spent eight years in a row in the world top two. Logically I prefer to be number two rather than number four, but what makes me happy is having a chance to win a tournament, getting on court and competing with chances, being competitive, in control of the situation. To me it's a fun and exciting challenge.
"
Q: "From the first moment you made clear that your injury has not forced anyone into retirement. Why?"
A: "
There are always speculations. Regeneration of a tendon is complicated and takes time. That's the reality
."
Q: "Have you been looking up your injury, consulting encyclopedias, Google?"
A: "
No, I'm not obsessed with the subject. I trust the doctors who have been treating me.
"
Q: "The day you gave up the London Olympics, was that the worst day of your career?"
A: "
It was an event that I was the least able of giving up in my life. It was worse in 2005 when I had the foot injury that was more problematic and more serious than this one. Moreover, now I am 26, having achieved more than I had imagined, so I see things more calmly.
"
Q: "When you were presented as the Spanish flag-bearer for the Olympics, you had no doubts you would go?"
A: "
After Wimbledon it was already bad, but I trusted that things would improve. I was not convinced that I would go. They were informed at all times of the risk we ran and that I had doubts whether it was appropriate to attend the presentation. They asked me to come, and I was delighted.
"
Q: "When did the discomforts in your knee start?"
A: "
It was bad at Indian Wells and it got really bad in the semifinals of Miami, where I retired against Murray. Between Miami and Monte Carlo I had two weeks off and clay suits me because it's less damaging than hard. I competed with discomforts, but without limitations. In the semifinals of Roland Garros I played with my knee infiltrated, which is very bad for the tendon, but at the time I thought more about winning my seventh Roland Garros than about my knee.
"
Q: "At Wimbledon, were you aware that maybe you should not have come?"
A: "
No.
"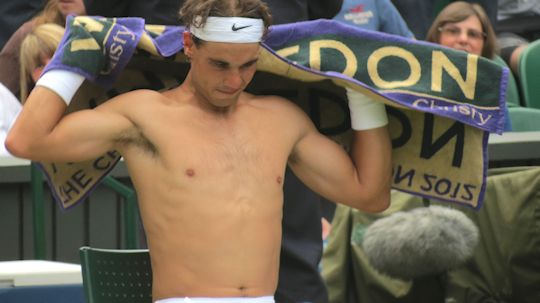 ©MAC for vamosbrigade.com
Q: "Being eliminated in the second round against world number 100 was a surprise."
A: "
No. For two previous weeks I practiced only one hour a day, without running, very badly, and I played with my knee numbed. I had no chance of going through more rounds. You always think you can, but it was not possible even though I did my best.
"
Q: "If you could go back, would you again play at Wimbledon?"
A: "
I cannot go back. These are the things that I cannot consider. If you tell me that now, I would have not played. It's easy to analyse that from here, but when you're there, in the heat of the moment, having won Roland Garros, you see things differently.
"
Q: "Which defeat hurts you more, to Lukas Rosol or to Soderling at Roland Garros 2009?"
A: "
They have no points of comparison. Both have in common that my knee was bad, but I could compete at Roland Garros. At Wimbledon no. The defeat to Rosol was a death foretold for me.
"
Q: "Do you fear the most switching between surfaces now?"
A: "
Switching between surfaces is always damaging and you try to avoid it. I will play at Acapulco to compete on clay, gain confidence and rhythm.
"
Q: "Your schedule will proceed depending on how you feel?"
A: "
I have made my schedule, I have it all planned out. What I cannot predict is whether my knee will be better or worse and whether I'll win more or less matches. It's not about the tournaments you play, but about the matches you get to dispute.
"
Q: "The same goes for the Davis Cup."
A: "
I cannot deny that the first tie looks very complicated for me to play it, but you never know. In the Davis Cup I experience emotions different than those at other tournaments and I have really enjoyed playing it.
"
Q: "How do you watch tennis from the sidelines?"
A: "
I was watching all tennis events, but not every day. When you are at home and you can do what you like, you prefer doing other things. I watched matches that I had been excited to see.
"
Q: "Are the virtues and defects of a rival best detected by watching his match on TV?"
A: "
We all know everyone else, there are no surprises.
"
Q: "There is unanimity about tennis having lost some interest without you. As if something is missing."
A: "
It's not up to me to say that. There have been exciting moments. Murray won his first Grand Slam tournament and Olympic gold, David Ferrer his first Masters 1000. And I'm happy for both. I suppose David will surpass me in the rankings in January, and I will be happy for him. The person comes before the athlete, the rival.
"
Q: "Have you been in contact with Federer, Djokovic or Murray?"
A: "
They have sent me messages of support and I've congratulated them when they won.
"
Q: "Can we say that Federer is your friend?"
A: "
I have my friends in Manacor, they are lifelong. Then there are Carlos Moyá and Marc López, among others. I regard Federer, Murray or Djokovic as colleagues. Unfortunately, I don't have 300 friends. I have as many as I have.
"
Q: "What has your normal day consisted of in these last months?"
A: "
Hours of recovery in the gym and a little bit of those things I can't do when I'm away.
"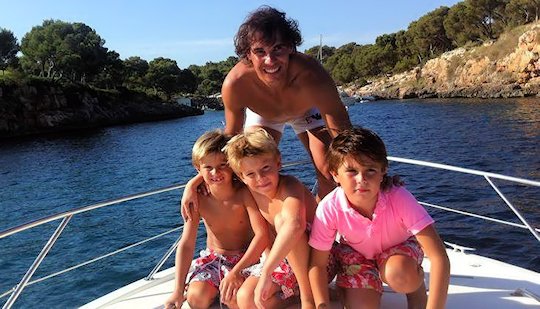 Q: "You took it as a semi-holiday."
A: "
A holiday is when someone wants to be on holiday. When your mind is on something else that's not a holiday. But I did spend more time at sea.
"
Q: "Have you missed the bustle of tournaments, with all it entails, such as travelling, matches, press conferences, advertising commitments?"
A: "
I've kept my advertising commitments. What I've noticed as missing is the absence of competition, feeling the adrenaline of competition. To tell you the truth, it's now that I'm missing the tour, because it's now that I'm starting to feel better. When you feel bad, you do not consider playing.
"
Q: "You are a fixture on social networks."
A: "
It's a very important communication medium that allows me to keep in touch with my fans. It's the future.
"
Q: "You see yourself playing until ...?"
A: "
Until my body and my mind allow me. My goal is to arrive fit in Brazil 2016.
"
Q: "When you retire, do you imagine your life to be very different from the one of the last few months?"
A: "
I suppose so. At first I imagine I will have a bit of quiet, but I love sport in general a lot and I will continue to be involved in it one way or another. Mainly in tennis, but I don't rule out my participation in other sports.
"
Q: "Has the economic crisis reached tennis in any way? When facing a player with a low ranking, do you know whether he's doing badly?"
A: "
To be honest, the crisis has reached all sectors directly or indirectly. Anyone who says otherwise is deceiving oneself. But it has not affected the overall economic level of the tour, which continues to grow. Although, it's not the time to boast about anything. It's time to work, accept that we are going through a bad time and try keeping our attitude necessary to change the situation, starting from the people in the streets up to those who are leading us.
"
Q: "You have noticed the crisis around you?"
A: "
I'm from Mallorca, Manacor, I'm from this world. I have colleagues who are doing badly, and when you see adverse situations you cannot stay on the sidelines. You suffer with them and you help as much as you can.
"
Q:"Have you undergone anti-doping controls in these months?"
A: "
Yes. And I'm not complaining about the controls, but about the methods. It's very easy to look good and make no comments about the subject, but I'm not like that. I'm saying clearly, I want anti-doping controls, but they make us go through very unpleasant situations and I don't agree with that nor can I support it. At six-thirty this morning I had a blood and urine control. Yesterday, at six-twenty, the same. Two days in a row. This is not how it should be when you're an athlete. Calling at your door that early, getting you scared to death thinking something terrible has happened. Also, I live with my parents.
"
Q: "Why at six in the morning and two days in a row?"
A: "
You have to give your whereabouts for 365 days a year, an hour a day, which I proposed to be at seven. I don't think all that is legal, because it goes against your privacy and security. It seems inconsistent and unnecessary. The third time they cannot find you, you get banned for a year, at least. When they come in, I offer them coffee. They are employees and I have nothing against them. I want to undergo controls. I know I'm clean, never in my life would I take anything. I understand sport as a philosophy, and would rather retire than cheat.
"
Q: "Being a sporting icon is tiring, boring, burdensome?"
A: "
It would be arrogant of me to qualify myself that way. On the contrary, what has been happening to me is very positive, I couldn't even dream about things that I was able to experience and I am grateful to life for everything that has happened to me.
"