As we head into the Christmas party season, Bacardi have given us a timely reminder of how to behave. Rafa was at the Casa Bacardi in Sitges on Monday to help them launch their latest campaign.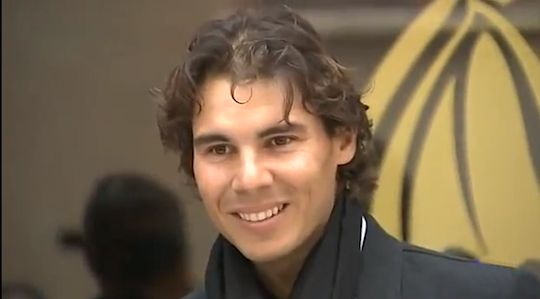 Screencap by MAC
Barcardi Spain tweeted
that it was an honour to have him as their campaign ambassador - "Con rafaelnadal. Qué honor tenerle como embajador de nuestra campaña de Responsabilidad Soc".
Rafa said, "Champions Drink Responsibly es una campaña en la que creo e importante transmitirla a jóvenes"
("Champions Drink Responsibly is a campaign which is important that I pass on to young people.")
.
This article
appeared in parahoreca.com.
(Google translation)
Rafa Nadal presents the new Bacardi Global Corporate Social Responsibility campaign in Sitges
The tennis player
Rafa Nadal
has appeared in Sitges in a new graphic image campaign
"T-Gesture"
, which in sports means "dead time" and that Bacardi used to convey some messages in favour of responsible consumption.
"For me it is an honor to be an ambassador for this campaign and support the work of Bacardi Limited in favour of responsible consumption worldwide. I am extremely proud to help promote this campaign and offer my full support to deliver the message to all my fans and consumers worldwide," said the Spaniard tennis player.
For his part,
José Manuel Barceló
, CEO of Bacardi in Spain, said that is "a privilege" to have Rafa Nadal as ambassador because he is "one of the most international athletes and one of the people who best embody our values, as sacrifice, perseverance and ability to overcome."
This article
appeared in europapress.es and nou.amic has translated the relevant section..
(Nadal) aseguró que como todo joven le gusta la fiesta, pero siempre con control. "Es importante transmitirlo a todo el mundo y más a la gente joven, como soy yo. A todos nos gusta salir de fiesta, pero con la campaña intentamos transmitir que se puede salir y pasarlo fantásticamente bien sin cruzar la línea. A todos se nos ha ido una noche de las manos, este tiempo he tenido más tiempo con los amigos y he salido responsablemente", afirmó.
(Nadal) said that like all young people he enjoys partying, but always under control. "It's important to get the message over to everybody and especially to young people, like myself. We all like going out at night, but in the campaign we try to transmit that you can go out and have a fantastic time without crossing the line. We've all had one night when things have got out of hand, during this time I've had more time to spend with my friends and I've gone out responsibly," he stated.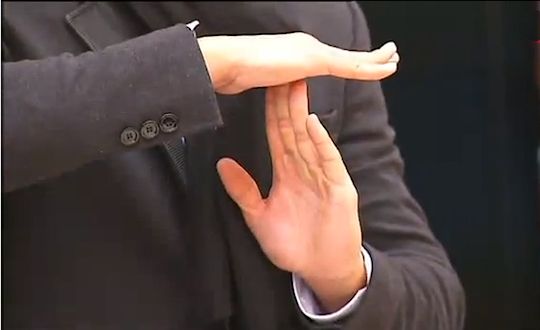 Screencap by MAC
Drink responsibly out there, people