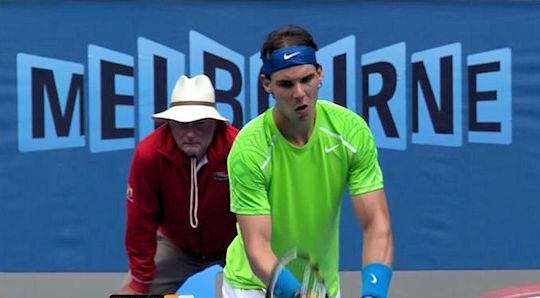 Screencap by elise
The first week of the Australian open is over and it's so far, so good for Rafa. We were all more than a little concerned when we saw his knee heavily strapped.
Screencap by elise
Rafa explained at his press conference after the match -
"I gonna say what happened. I had a fantastic week of practice with nothing of pain, no one bad feeling on the knee and no one place on my body. So I was really, really happy with everything. But yesterday afternoon happened the more strange thing ever happen to me. I was sitting on a chair in the hotel. I felt like a crack on the knee, but is nothing really strange. Happens lot of time with articulation, movement, articulation. Nothing strange. I stand up. I felt the knee a little bit strange. I moved the leg like this two times to try to find the feeling. After the second time, the knee stays with an unbelievable pain completely straight. I really couldn't move the knee like this (indicating just a little bit). I have no movement on the knee.

"I have a hard afternoon. I did all the tests. Came here for ultrasound. Went to hospital for MRI. I just can say thank you very much to the tournament for all the facilities give to me on a Sunday. Not easy to find places, and they make fantastic work for me. So I just can say thanks to them. And, seriously, yesterday during the evening I wasn't hundred percent sure I would have chance to play, because with the movement of that knee I felt that I will not be able to play. I did a lot of treatment. The MRI was positive. Nothing wrong shows the MRI. So that's always a lot of calm. But still the knee, you know, with the pain. Finally what happened is with the movement, articulation, probably pinch maybe the tendon little bit or something that put the tendon completely straight.

"The best thing is I felt the knee very well. So is something that I really don't understand why happened everything, but I am really happy that today I was ready to play and I played a fantastic match. "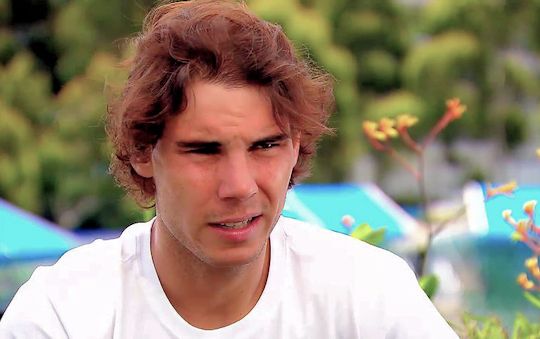 Screencap by rafafanatic
It must be OK since in four matches Rafa hasn't dropped a set. His first serve percentage is a terrific 73% (17 of those were aces) at an average speed of 176kph (110mph) and he's won 81% of those points. He's made 125 winners against 64 unforced errors. He's won 47% of all receiving points but his break point conversion rate is only 50%. However, he's faced 15 break points and only conceded 4 of them so his opponents' conversion rate is only 27%.
In round 1 Rafa beat
Alex Kuznetsov
,
6-4, 6-1, 6-1
.
He was in the Hisense arena which may explain why they hadn't managed to get the microphone working for the on court interview.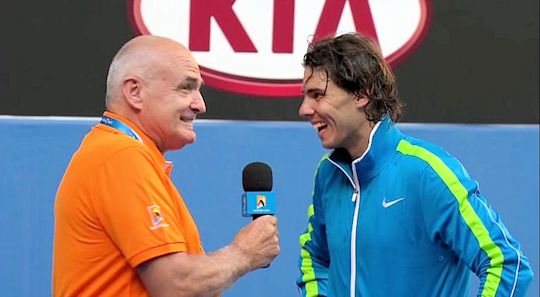 Screencap by elise
It's always good when it's hot enough for Rafa to take off his sweat-soaked t-shirt at the end of the match;)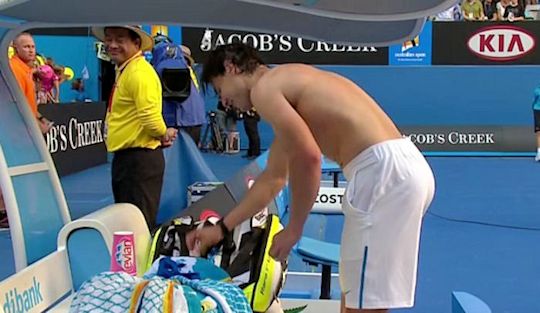 Screencap by elise
In round 2 he beat
Tommy Haas
,
6-4, 6-3, 6-4
.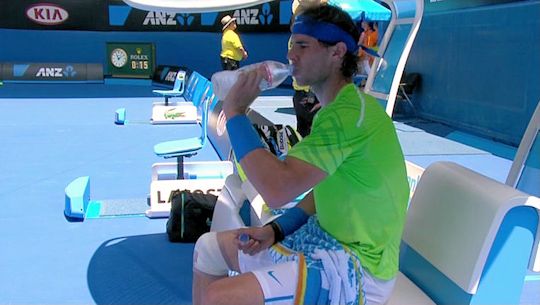 Screencap by elise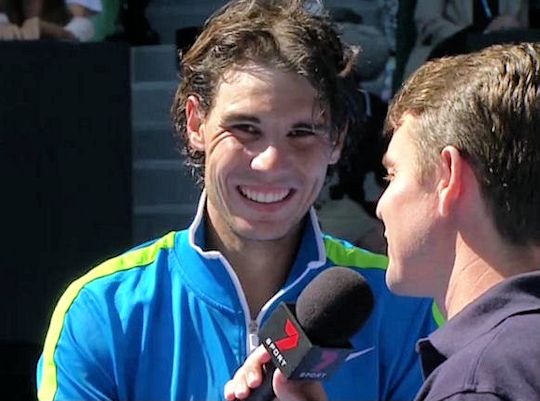 Screencap by elise
The post match press conference was memorable for some of the jounalists arriving after Rafa.
"So everybody arrives late because they thought that I am late, no? (Laughter.) I usually am very late, so they know that.

"I don't know if it's the perfect match, but I won in three sets. I started match playing fantastic, especially the first seven games. I was a little bit unlucky at that game with the 5-4. I had 30-0. After I had breakpoint again, but I was lucky that I had two aces in a row. And a third one in the set point, Tommy had the fantastic serve, too, and forehand winner. So I end the set well. I started the second set very well another time. Second set was, I can say, comfortable for me, because I had the break at the beginning. I didn't suffer a lot with my serve, and I had the second break with the 5-3. So it's important, the break, I had a very bad game in the beginning of the third. After that, you know, the set is in trouble. If you don't have the break back next game, you will be fighting all the set to try to come back, no? Finally I did. I think he played well. He played aggressive. He played with very good second serves. For a moments his first serve was really difficult to read. "

On being asked if he would have liked a walkover like Federer -
"Before the day start, yes. Now I played and I win, no, I'm happy. (Laughter.)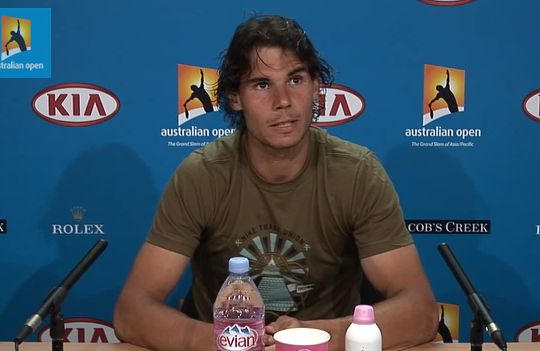 Screencap by s.katalin
In Round 3 he beat
Lukas Lacko
,
6-2, 6-4, 6-2
.
A swallow landed on the court during the match and Rafa looked like he doubted its intentions.
"I am playing well. If you are playing well, things can be a little bit less difficult. If you are playing bad, every match will be very, very difficult, no?

"I did well. I played both matches, three matches at very good level. Today was one of the best, solid, without mistakes, comfortable with the serve, having good return.

" So nothing is easy. Everything is difficult. Every match you have your problems. First set was 6-2, but was a really fighted set. That's my feeling. Was tough one.

"But I played solid all the match, so that's why the result."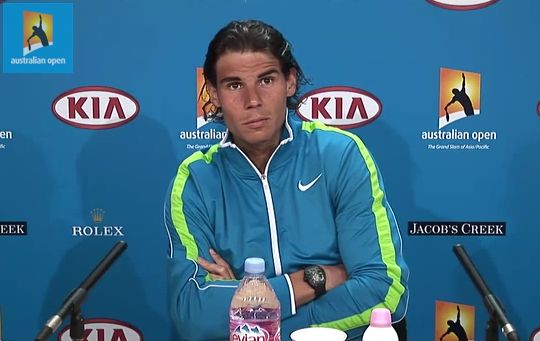 Screencap by MAC
Those of us who like to look ahead at the possibilities of the draw were a little nervous of the round of 16 since Rafa's projected opponent was
John Isner
. (Some are still in therapy after their Roland Garros match last year.) There were collective cheers, therefore, when
Feliciano Lopez
beat him to become Rafa's opponent.
As we hoped, it was an easy win for Rafa,
6-4, 6-4, 6-2
.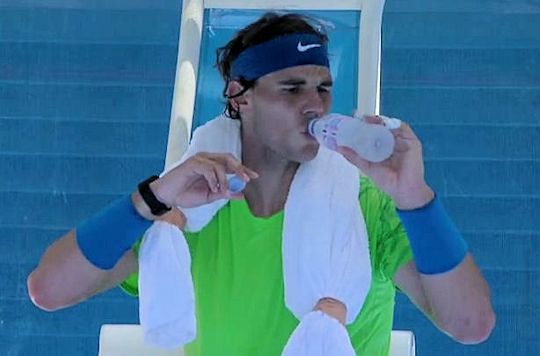 Screencap by elise
It was followed by a very cute on-court interview.
"The most positive thing is the feeling is positive during all the tournament and happy about how I am playing and enjoying the tournament. I'm in quarterfinals. That's very good news.

"I think I started the tournament playing really well this time. Sometimes in a few tournaments I feel that I am improving day by day. But this time I felt that the first day I played well, and second, two days ago I played well. And today I played another complete match in my opinion, serious match..

"But now I arrive to quarterfinals. Is the moment to keep playing well and to try to go a little bit more. That's all. In general, I am doing the right things. I am in the right place, right moment. So now remain to keep playing well and to try, if it's possible, to improve a little bit. But I am happy."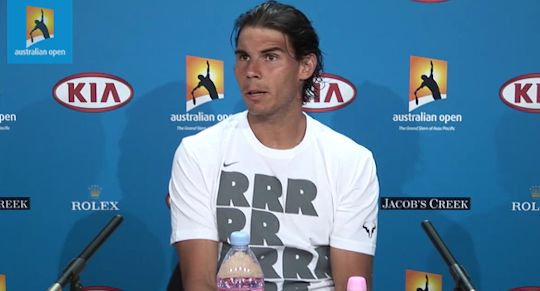 Screencap by MAC
He'll play his quarter final against
Tomas Berdych
on Monday.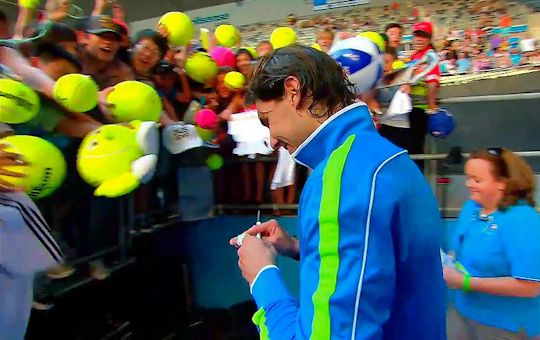 Screencap by rafafanatic
Vamos, Rafa!
Good luck in week two!