Previously, on
Operation: Desert Invasion
, we saw about twenty VBers descend upon Indian Wells with recording devices, fan gear, and creative cheering equipment.

© bluebird for vamos brigade
Rafa had passed the second round of the singles and he and Marc Lopez had defeated the third-seeded team to reach the second round of the doubles.
Because Rafa played so many matches and had so many practice sessions over the course of the week, and the VBers on-site were exceptionally diligent,

© MAC for vamos brigade
there were almost too many pictures, videos and stories from which to choose. Here are the results of the matches and some of the fruits of our members' labors.
Doubles - Round 2 - Defeated Alexandr Dolgopolov and Xavier Malisse, 6-4, 6-3
As usual, this extremely appealing match-up was not televised because it was doubles. It pitted "Team Cuteness" against "Team Ponytail." Dolgopolov and Malisse were the 2011 doubles titlists and by all accounts, loads of fun to watch (though not as much fun as Rafa and Marc).
© Attitudette for vamos brigade
One consequence of the refusal of the ATP (or the TPL or whatever organization is in charge of deciding what matches tennis fans get to watch) to televise any of the doubles matches was that our
jen
was
the only person in the world
to capture the moment when a fan fell onto the court while trying to catch a tennis ball that Rafa had tossed, and Rafa went over to make sure that he was all right and wound up giving him a hug. You can see that event, starting at about 1:55, after Rafa's and Marc's interviews.
I'd like to point out that, once again, so-called "professional" tennis reporters/announcers, etc., could take a lesson from VBers when it comes to getting their facts straight about anything to do with Rafa. One can clearly hear
jen
and
MAC
correcting the announcer's error that Team Ponytail had defeated Rafa and Marc at Indian Wells last year.
VBers blogged tirelessly. MAC noted of this photo, "Roig maintained his cool behind the mirrored shades. Love how they mean you can get a pic of the back of Rafa's head."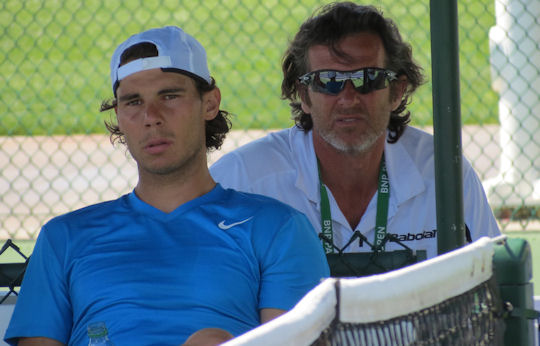 © MAC for vamos brigade
Singles - Round 3 - Defeated Marcel Granollers, 6-1, 6-4.
Rafa had never played Granollers before, and took the first set in 29 minutes. Granollers stepped it up in the second set and earned some break point opportunities, but Rafa's serve was never broken and he was never seriously in danger of losing. During a couple of changeovers, Rafa seemed more concerned about the scores in the other matches.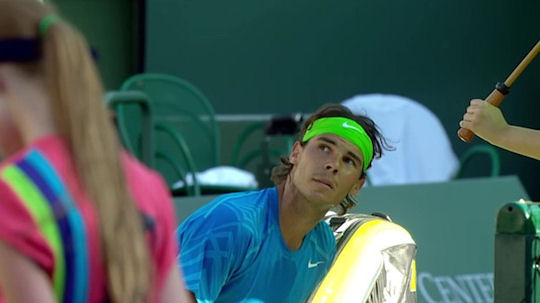 Screencap by elise for vamos brigade
Singles - Round 4 - Defeated Alexandr Dolgopolov, 6-3, 6-2.
When, in his post-Granollers-match presser, Rafa was asked his opinion about his next opponent, Rafa described Dolgopolov as "[A] crazy player. He's a crazy player, not like a crazy guy. He's a crazy player because you can expect everything. That's true, no? He can play really aggressive; he can play very fast; he has a very good serve; and ball is going too fast sometimes, no? He can beat you and you will not have . . . you have always something to do, but you will have small chances. And he can play with mistakes, but you never know because he's a special player, and it's very difficult to wait something. . . . I have to play long to make him hit the balls in more difficult positions. That's what I have to do. But I know he can hit a winner from every place on the court."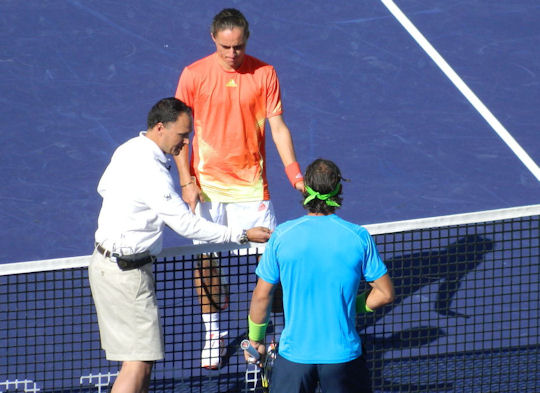 © bluebird for vamos brigade
Dolgopolov didn't cause Rafa as much trouble as anticipated, as he ostensibly was carrying a leg injury and couldn't move as well as he usually did. We didn't mind the straight-sets win and VBers were particularly pleased to see our favorite umpire, Mohamed Lahyani, whom we affectionately call "MoLay," in the chair.
Doubles - Quarterfinal - Defeated Leander Paes and Radek Stepanek, 6-3, 7-6(5).
Another seeded doubles team and another straight-sets victory. Paes and Stepanek were the seventh seeds and Paes is legendary for his touch. This match was notable for the medical time-out. For those of us watching the live scoreboard, it was agonizing when the numbers froze. Thankfully, reassuring tweets and texts arrived: Marc had a blister on his foot and Rafa was translating for him and helping with the bandaid (which I learned are called "plasters" in the UK). Nothing to worry about.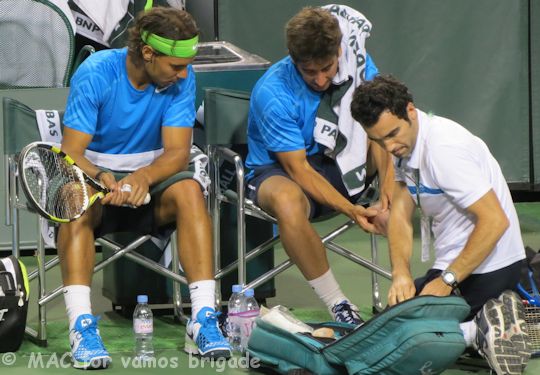 © MAC for vamos brigade
We are grateful to MAC and the other VBers for capturing these moments.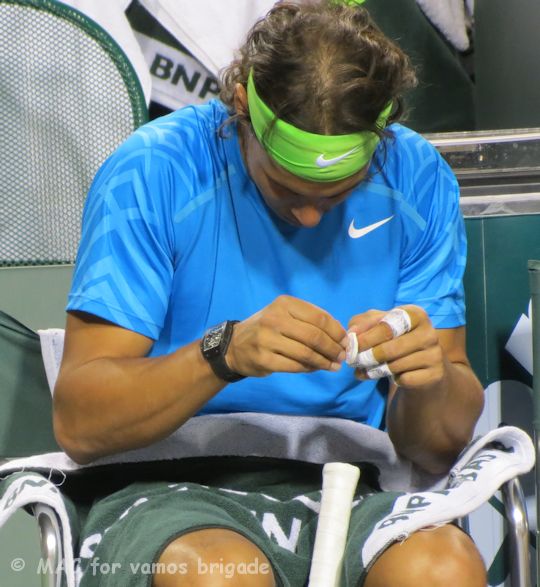 © MAC for vamos brigade
Doubles - Semifinal - Defeated Mariusz Fyrstenberg and Marcin Matkowski, 6-2, 6-0.
Rafa and Marc dispatched the sixth-seeded team in 53 minutes.
jen
captured an animated conversation during a changeover. Rafa was certainly passionate about whatever the subject was (I suspect that it concerned sports, but I have nothing to base this on).
Singles - Quarterfinal - Defeated David Nalbandian, 4-6, 7-5, 6-4.
When David Nalbandian is "on," he can give Rafa fans fits. (I cannot speak for Rafa.)
bluebird
,
summer3
and
rubytuesday
are survivors of Rafa's 2009 Indian Wells match against Nalbandian, in which Rafa lost the first set and Nalbandian held match points in the second. That 2009 match was the first time that Rafa beat Nalbandian and I would be surprised if any Rafa fan had fingernails left when it was over.
This year's version was also a nail-biter. Unlike his previous matches this tournament, Rafa was not quick out of the blocks. He seemed more tentative and made uncharacteristic errors (and far more than was usual). A lot of that was due to how well Nalbandian was playing. Rafa later acknowledged that he had been more nervous about this match. Rafa had one break point in the first set that he couldn't convert. Nalbandian converted his single break point in the 10th game and there went the set. The second set lasted almost an hour. Nalbandian had two chances to break, but Rafa saved both. In the 11th game, Rafa converted his only break point and eventually managed to hold serve to close out the set.
In
Rafa vs. Nalbandian version 2009
, Rafa bageled Nalbandian in the third set. In the 2012 version, Rafa managed two breaks in the third set but couldn't close it out and Nalbandian got one of the breaks back. Rafa eventually closed out the match on his serve, but it was a little too close for comfort.
In his on-court interview, Rafa thanked his fans for their support throughout the match. The VBers in the audience had been stalwart cheerers, waving their pompoms, flags and banners, and screaming themselves hoarse. When Rafa passed by the VBers as he left the court, he looked directly at them, gave them a grateful smile and waved. Luckily,
MAC
captured this moment.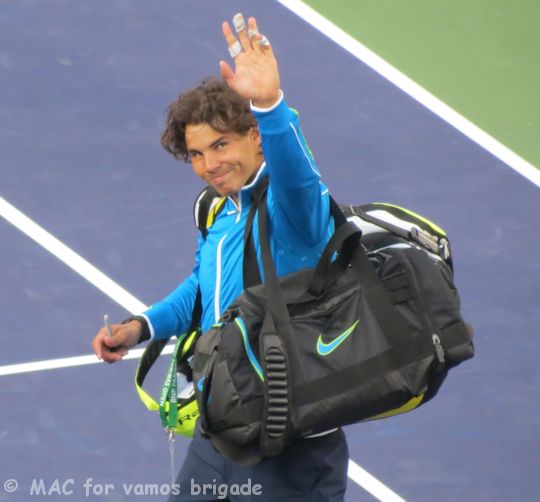 © MAC for vamos brigade
Singles - Semifinal - Lost to Roger Federer, 3-6, 4-6.
Rafa was through to the semifinals for a record seventh straight year. He was scheduled to play the second semifinal match of the day and later, the doubles final, but the hot, dry desert turned into a cold, rainy, windswept mess immediately after the men's first semifinal match concluded. When, after several hours' delay, the match finally started, Rafa struggled with the swirling wind. He clawed his way back into the second set, but he couldn't even the score, and lost in straight sets.
Here's dafunk's take on Rafa's semifinal match:
"Once Rafa and that other guy came out on court, conditions were horrible. The wind was swirling so much that there really wasnít a side of the court that was 'into the wind.' It was constantly changing. The wind was playing havoc with Rafaís topspin and high net clearance, and the cool conditions meant his ball didnít kick up at all. He was not happy out there. Neither was Fed by the way. He was wrapped in towels on the changeovers. In the stands, we were freezing. It was not a good match in any respect, although I have to say Fed played really well. He was hitting his spots on his serve, and he just stood on the baseline, taking every ball early. That was the key in those conditions: give the wind the least amount of time to play with the ball. Fed won that battle, and won the match.
"I know Rafa didnít play very well, but I truly believe it was due to the weather conditions. However, and call me Pollyanna if you want to, I saw some positive signs from Rafa during the match. First, he did not default to running around to hit his forehand. All tourney long, heís been practicing his backhand and in matches heís been committed to hitting the backhand to avoid leaving so much open court. There were plenty of times he could have run around the shot to hit a forehand, but he didnít. He is working on something here, and he was committed to keep working at it, even during a match against Fed. Also, he stepped in, and EVEN ON the baseline to return some 2nd serves. Not every one, but more than he had in any match up to this point. Heís been working on that a lot in practice as well. So, I predict this match will pay dividends down the road....stay tuned....
"It was really strange how OK we all were with the loss. Maybe because we saw it coming from the start, maybe because we knew he was in the doubles final, maybe because the conditions were so awful that we could relate with Rafa in wanting to get out of that stadium, but whatever the reason, none of us were that upset. I really donít think Rafa was either, to be honest.
"We all waited for him to leave the stadium and gave him as big of a cheer then as we did the previous match . . ."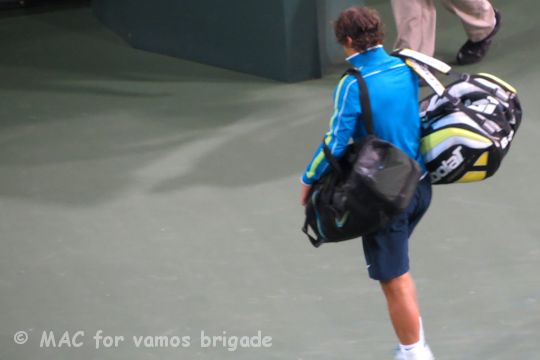 © MAC for vamos brigade
Doubles - Final - Defeated John Isner and Sam Querrey, 6-2, 7-6(3).
What a wonderful way to end the tournament! Rain forced the postponement of the doubles final for a whole day, and there was a very good chance that the match wouldn't be televised, but ESPN, TennisTV.com and JustinTV came through. The VBers on-site had secured excellent seats. The match was an absolute delight to watch. We saw why Rafa and Marc had plowed through three seeded teams and last year's titlists: they were always moving, they were in sync and Marc was a killer at the net. (Rafa held his own, too.)
This picture conveys our emotions quite well.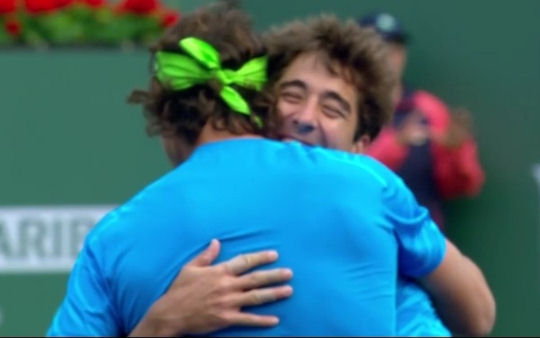 Screencap by elise for vamos brigade
And because VBers had secured super seats, they were able to capture images like this: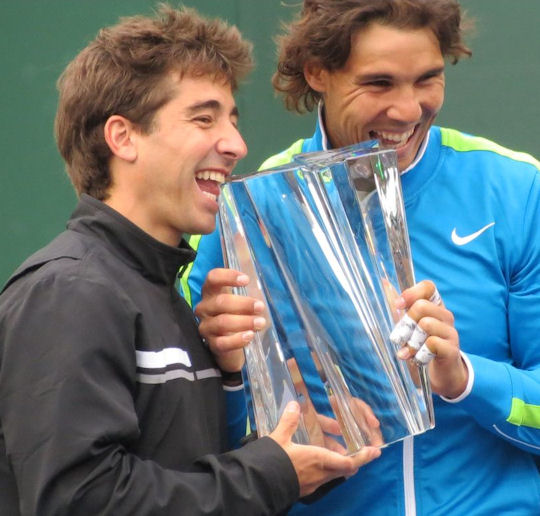 © MAC for vamos brigade
Rafa and Marc complement each other extremely well. They played smart and inspired doubles tennis. They surely deserved the trophy they're biting together.
On to Miami - °VAMOS!