29th dec 2006
I reached Chennai at 1:30 am and there was the vehicle waiting for us to take us to the Park Royale hotel where we were going to stay. On my way from airport to the hotel I was just wondering where will all the players be staying????? And thinking that I was going to see Rafa playing on court made me more excited. So we finally reached the hotel in half an hour I was very very tired (sad). While entering the lift I saw a notice board outside and read something about Chennai Open but didn't stop to look what was it........we reached our room it was on the 5th floor but then I really wanted to read what was written on the notice board so I left my jacket and everything and rushed downstairs......from reading the notice board I got to know that qualify sign ups were happening in this hotel. I felt a chill through my spine omg!!!!!!!! Rafa can't be living in the same hotel, but I so wished. Anyway, I got up to my room and slept peacefully without realizing that the days ahead are not going to be so peaceful.

30th dec 2006
I woke up in the morning and then took a bath had some breakfast at around 10am and then was waiting in the lobby as me and my family had to go somewhere out and then I see the tennis bags that the bell boy was taking and get more excited.......after a while I see more tennis people with their tennis bags and roaming here and there.......and I didn't know their names so I thought that maybe they are the qualifiers and are staying here no but then I saw Malisse and some other guys that I have seen on tv and get dead shocked 's**t no way Rafa can't stay here' I was thinking that all the time....but then players were there in front of my eyes and I thought maybe Rafa would be staying somewhere else.......we got out of the hotel and I saw the official Mercedes Benz cars for the players parked outside but still wasn't satisfied.......but then we had already left (crying) and there was no time for satisfaction.

30th dec 2006
We came back late that night maybe around 10:30pm or something I reached the lobby and asked the reception that
me: "Is Rafael Nadal staying in this hotel"
receptionist: "Yes ma'am"
oh s**t after that statement I must have fainted but I didn't thankfully then I asked him again me: "Can you tell me his room number?"
receptionist:"Ma'am you go straight you will find a house phone there you can ask them they will tell you"
me: "Thanks"
I didn't go any house phone or anything and came back to my room. But then I recalled his statement again and realised that there was no house phone out there I had already been there, instead there was the restaurant...I understood his hint clearly and rushed downstairs off to the restaurant.

I entered the restaurant and pretended that I was looking for someone actually I was........I was walking and then there was a table where 10-12 people were sitting and completely recognised his Nike shirt and looked to confirm and when I saw him sitting in the middle talking adorable (love) Spanish. I was totally flattered and my jaw dropped open I guess the people could make out the shock that I had received and started to look at me even Rafa so I turned and rushed outside totally excited I reached my room grabbed my brother, a pen and paper and the digicam.......I came back down and my brother wanted to see him so we went inside again and did the same as I did before and there he was. I spotted his long hair again. On seeing me he stopped talking and looked my way. I froze not knowing what to do. I started to talk to my brother. I guess he got a hint that I was a stupid fan. While coming out I saw a girl sitting far from Rafa but on the same table. I thought it was Xisca but didn't look back. I was a little sad but was desperately waiting outside for him........I waited for like 45 minutes out here but meanwhile I was just browsing through the menu cards and talking to the duty manager of the restaurant and she told me everything I needed to know about Rafa; like what time he comes to eat and blah blah blah. She also told me that they had planned a big bash for new year and no outsider was allowed; and also Rafa used to stand up in between and explain something to his pals acting out. I got some points of it. He was telling him about the match he had with Federer last time in Shanghai and he looked so adorable ........I was still standing there. I got a little bored and I looked the other way round when I notice someone at the back it was Rafa talking on his cellphone. He noticed me too and looked at me then I saw him returning to his table and suddenly the lights went out. I mean in a 5 star the light going out is impossible but maybe there was something special in store for me.......(hehehe)

So I really had no idea where I was walking because it was all dark....I was walking and then I bumped into someone's stomach I could feel some strong abs out there but didn't realize it was Rafa. So in the dark I said sorry and started walking. I think he didn't hear it or ignored or was still talking on the phone or was just wondering whom did he just bump into. So the light came out and I turned to confirm indeed it was Rafa. He also turned to look and saw me and started to talk on phone again. I swear I must say he had gone all clueless but I don't know. He looked in tension it felt as if he was tensed but of course I couldn't ask him. So after 15 minutes or so he came out of the restaurant wearing a Nike shirt, blue jeans, red belt and white shoes and looked so TALL; much taller than I had imagined and seemed great, very manly. I almost jumped on him and asked for an autograph. He was so sweet. He gave me one and when I wished him happy new year he looked at me and nodded and then was going so I shouted out his name aloud. Maybe my excitement gave that confidence to shout I don't know but I was shaking. I asked him for a picture. He agreed and stood with me. I could feel his strong hand on my back (love) and also his long fingers. After the picture I said thanks. He touched my shoulder and said "sure chica"........I was so happy I got that chica from him..... So then my dad called up and I had to go back to my room and I saw him entering the night club. That was my first day in Chennai which I am never going to forget and this is not all. You can't even imagine what else I saw....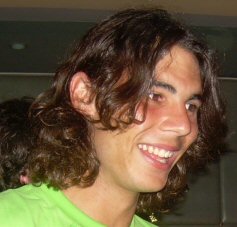 31st dec 2006
I woke up in the morning. Actually, I didn't even sleep that night because I couldn't get any sleep but then my dad gave me the bad news that he had to go for official work in Pondicherry (which is a 3 hour drive from Chennai) so that meant that even we had to go and then I didn't see Rafa on new years eve which made the day more pathetic (crying).

1st jan 2007
Finally we were leaving Pondicherry and going to Chennai. On the way I asked my dad if he had bought the tickets for the match today or not??? He called up someone who was supposed to buy the tickets for us in Chennai but, what was my luck, that idiot had not bought the ticket and told us that everything was sold out......God I was nearly in tears (crying) and was shocked, but I mean that was expected.......We reached hotel at 2:30 pm and I rushed to my room crying, so my dad called up the stadium people and they said that still there were tickets left for the back seats which were obviously cheap. My dad was still confused what to do???? should we buy it or not, but I was in a condition that anything would work....My dad called the hotel cab and we came down in the lobby and I had the camera in my hand. I don't know what made me walk in the restaurant instead of walking outside the doors of the hotel. I spotted the hot looking guy sitting having lunch, actually waiting for it to arrive, and looked cool and all happy like he didn't really have any tensions for the doubles match in the evening. I then thought that he must be happy because xisca must have called him up and wished him luck hehehe.....Anyways my legs started shaking and I gathered all my courage and asked Rafa for a pic as he was not eating food.
me: "Rafael can I take a picture please???"
Rafael: "Ya."
I took his picture while he was sitting he had just come back from the practice. It seemed like Tomeu was hiding hehehe...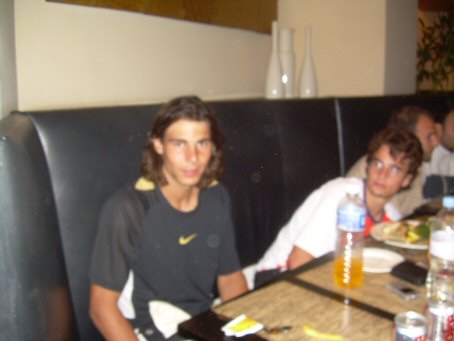 Then I wanted one more pic in his natural pose speaking Spanish, so I did.
And well I shouted thank you so much he turned towards me and said politely thank you oh man!!!!!!!!! His eyes (love) and his stare, too cool.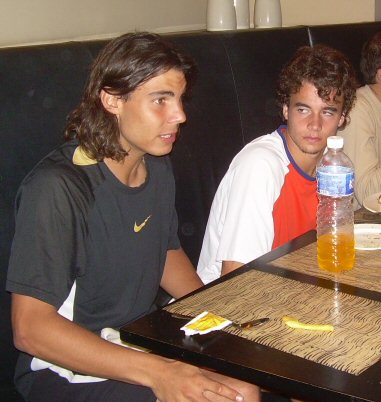 And my 1st jan adventure doesn't end here, there's a lot more to it. Post it when I get time sryyyyyy.

I forgot to tell you one small detail. Actually I was standing in the lobby and was wishing badly to go inside the restaurant and look for him but couldn't. I was really very nervous because the people used to start staring at you. Anyways, I was standing there with the camera in my hand hoping that I'll see him and then a guy with tied hair just goes from my side with a Babolat racket in his hand and wearing white shirt and black shorts. I look at him and it was Moya (grin) and he was entering the restaurant. I got it, Rafa is for sure inside because Moya, Rafa and Tomeu were always together just like best friends......So I entered and the restaurant. I have already told you...

1st jan 2007 3:00 pm
Maybe I was grinning that I saw him and had a pic but was really tensed that I didn't have the tickets for the match today and was really sad. We hired a cab and rushed to the ticket counter of the stadium. He gave us the ticket of the backseats, they were cheap but the view of course was not so good (this is what I had thought). And then I was really depressed but relieved. At least I had the tickets and anything would work now.........We were returning back to the hotel and I saw a black Mercedes car in which a guy with brown curls and long hair was sitting (love) and looking for something in his bag. Of course it was Rafa....Rafa had his own personal black car out there so whenever it used to be parked means he's in the hotel and whenever not, he is in the stadium hitting heavy balls. (lol) And then he left early as there was an opening ceremony at 4:30pm. But still I wondered why so early? I had no idea that they were going to celebrate Nalbandian's birthday at the same time or else I would have gone to see it........I was so tired that I slept for like 2 hours and at 5:30pm we had reached the stadium.

1st jan 2007 5:30pm
After reaching the stadium we entered the centre court and it was almost half empty because it wasn't Rafa's match. So instead of sitting behind we sat in the front and the view was so clear.........We were just sitting there and waiting for the match to get over so that we could see Rafa and Tomeu on court action.......After an hour their match got over and then there was Rafa ready for his first match of the season with his best friend. They both looked good and the crowd cheered for them throughout, which was really fun part to see...Rafa started the match very enthusiastically and with his usual aggression.....The match finished and you guys must have seen it on tv so I don't think I need much to say about it. It was just that it was good to see his various trademarks, like his jumping while toss, keeping the bottles perfectly in place, etc. etc...I also noticed one more thing, he used to put his hand in his pocket every time........He won the match and was really happy (cheering) so I was happy, too........After the match we went to a shopping mall and I started to search for a gift shop because I wanted to give him a new years card. Anyway, I looked for the shop but it closed down and I was disappointed. (sad) So we had food outside only and I was not in a mood to eat as I was sad the shop had been closed down. I was just going to stay one more day in Chennai and I was all crying.

Well, as requested by you people, here are the match details also........... I was sitting in the front row seats and we all were waiting for the match to start. Just then the hooting in the stadium start and a tall hott looking guy in his white and silver combination, wearing a bandana, and his partner in normal shorts and t-shirt and a cap arrive...I wanted to see Rafa with his Babolat bag and I got to see that, for which I was really happy...Rafa raised his Babolat racket toward the audience and nodded to their applause.....During the time of the coin toss, as usual, Rafa started jumping. Many people out there couldn't understand why he was doing that but, of course, the fans of him could. After the coin toss he ran toward the base line. For a second my mom thought that he was going to fall. (lol) The match started and Rafa was really good amongst all four of them, even Tomeu wasn't bad ......Rafa started very energetically and hyperly....At one time he was running in full speed too fast and landed, kicking a ball boy's ass who was sitting near the net. (lol) That was funny, but then Rafa got a little steady and played awesome.......The Chennai Open people also arranged for the cheerleading girls, but the only thing that bothered me was they didn't cheer for any of them. Instead it was the Chennai Open who was getting all the cheering. (don't know) But, like, initially Rafa didn't notice them. But later, when he noticed the girls in short skirts hopping, he looked at them and for like 2 minutes or so. I tell you, he is one naughty guy. (eyebrows) And then jerked his look to the other side, maybe he remembered Xisca. (hammer) (lol) And, well, thankfully he didn't get distracted by them....And my brother was all the time taking pics. There was so much cheering for Rafa going on the whole stadium was shouting and Rafa was impressed.....He was just unbeatable on court! (love) So then the match got over and Charu Sharma (who takes interviews of the winners) came and took the interview. Rafa spoke so beautifully and adorably that all the time I was just staring at him. There was not one moment on court when I took my eyes off him. Vamos Rafael! It was a fun filled entertaining match. Of course, after the match we left for the shopping mall.........

Maybe I was a little sad but got all happy happy after what I am going to tell you now. You people are simply going to laugh out loud! (hehehe) ........We arrived back at hotel and were waiting for Rafa in the lobby again, as my brother wanted a pic with him.....Again he was having his food. But then while I was waiting I saw Nalbandian coming out of the lift and then looking into the restaurant while hiding at the same time. I think you get my point........so some time later there were many players waiting in the lobby, too........I stood near the reception wall and was having my camera switched on because I had seen Rafa's friends coming out, but then Rafa was not there. Suddenly, players gathered in the lobby as if some show was going to happen. (group hug) And I was the only one standing among the tall guys who were like waiting for someone to come out of the restaurant...After a while, like, I was standing there, Rafa and Tomeu came out and the players started saying "aieeeeeeeeee Rafa rrrrrafa rrrrrrafa"! I mean all of them, which was hilarious! (roflmao) Then Rafa descended the little staircase that was between the restaurant and the lobby. And Rafa, with head bowed down giving adorable smiles (worship) (love), started walking my way. He was walking so (love)...I don't know, I loved the way he walked (hehehe). Anyway, I was staring at him dumbly because it felt like a small kid was smiling when he is tickled (hearts)...So he passed in front of me. He was wearing a green Nike shirt and the white pirates and white shoes. He stopped walking and looked for Tomeu...Tomeu came and stood with him they both looked at each other helplessly and I was standing there perplexed (???) about what was happening...And then I see world no. 2 and his best friend kneeling down on the floor and omg!!!!!!!!! What I was watching could not be true! (shocking) They both were crawling! They crawled until the main entrance of the door. I was standing there laughing (roflmao) and shocked! You people can very well imagine how would it be to see such a famous player, and especially your favorite one, crawl down there on the floor and look totally cool, even if he was feeling embarrassed (blush)...

After his crawling he stood up and blew a flying kiss toward his audience (hehehe). And then they started walking back toward their friends. I mean the players in so much pressure and tension can manage to have fun and to see them this way was something really out of this world. I was feeling Rafa was so happy and I had never seen him so happy. And the players were also laughing. I don't know why they did it. I think maybe it was because they lost a bet or maybe a birthday present Nalbandian had asked for. Whatever, it was it was one thing I am never ever going to forget all my life.....these people are away from their home away from their loved ones and have so much of tension. (crying) But still show that they're happy and are relaxed and Rafa looked like one of them. (crying) My brother managed to get a pic and also I was able to capture one of his most beautiful smiles of lifetime (see above)....... I was so happy and laughing all the way to my room even my parents were laughing........Because of all the noise they created in the lobby, people from the restaurant came rushing by. And Rafa just rushed back to his room.......I noticed one thing about him. He was just like a normal boy. There was nothing around him or he never showed that kind of attitude that said that he is world no. 2 or a famous celebrity (the part that I really loved about him). But he was hott looking and really nice to see fans, even when he had any tension (hehehe). Here are pics of the hilarious incident.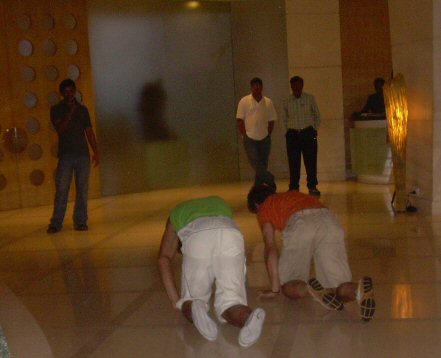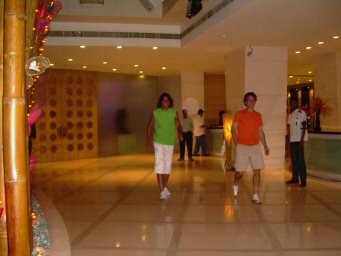 2nd Jan 2007
Well I couldn't sleep the whole night because all the time I was thinking about what all happened in the night.....I got dressed in my tracks and thought of going to the gym with my mom. Well I reached there; it was on the 8th floor and there I saw Carlos running on the walker and I started to find Rafa but he was not there......Then after exercise I went back to my room and got dressed as we had to go to the beach but I was really very, very sad thinking that it is going to be my last day today and then I am not going to see him...... So we were sitting in the lobby and I was listening to my ipod I thought that Rafa must have left for the practice but then I saw this guy in shorts having a babolat bag on his shoulder and walking with a banana in his hand and eating it like a monkey (hahaha) I was just looking at him as he had reached the main door two girls who I think were waiting for him caught his arm and clicked a photograph without even asking Rafa and Rafa was so shocked and he didn't know what was happening. Seriously I think that photo must have been one thing I really wanted to see coz he must be having a real funny expression.

Anyways then we went to the beach and had a lot of fun. While returning back it was almost the time for his match so we thought that we could go directly to the stadium so as we were going we started to find the tickets because I completely remembered taking it from the room and then I remembered they were in my brother's shorts which were now wet. I took them out and nothing could be read they were wet and torn. I was shattered coz I completely knew that there was no way I could get the tickets now in the end moment but still I had to try......

We reached the stadium and I talked to the authorities but they were very rude and then I went to the ticket counter and the person was so nice he gave me the tickets out of the way and I was more than happy coz if I would have waited in the long line then there was no chance I could get the tickets.....Then me and my family went into the stadium and Moya's match was going on and it was fun watching him play but during the match I recognised a tall person standing behind the chair umpire and watching the match with his intense eyes and it was Rafa omg!!!!!!!!! He looked so sexy that I could just........smile. He watched the match a little bit and then Tomeu also came but he saw the match for very less time....then Rafa left for the locker room.......

Moya's match ended and then came Rafa's match I could see the locker room and I saw Rafa jumping as he does then he came to the court. He jumped again while his coin toss and then running to the baseline then Schuttler and Rafa both practiced and we were having fun the whole time. Rafa was struggling with Schuttler's balls but as Schuttler was losing his stamina Rafa was gearing up. With every shot my heart beat faster coz every point now had a significance for Rafa's win. Then in between there was a boy 12-13 years old sitting behind me and was constantly shouting 'go Schuttler' which made me angry and even I started to shout aloud 'go Rafa' 'vamos Rafa'. Everybody around us were getting irritated but they understood we both were just fighting hahahaha. It was fun the match ended and Rafa didn't look happy - even he knew that how bad he played????......

After the match I went to the shopping mall and this time I was able to get a card and I was happy. I wrote best wishes for him and then rote 'from your fans of vamosbrigade.com'. I was waiting for him to finish his dinner.... After a while he came out of the restaurant. He was wearing pink t-shirt and white pirates looking as handsome as he could be/ I was standing there admiring him and could possibly stop smiling with every glimpse I had of him. He was looking sad and not happy with his victory he was talking to someone and then went to his room by the lift and then I remembered that I had a card in my hands which I had to give it to him. So stupid of me to not to give it to him. Silly me........

So I went to the restaurant and saw Moya and went to him and gave the card. I was shaking and very nervous about everything. Moya could make it all and by being sweet he was trying to relax me as if this is all an okay idea......He was so sweet that I was impressed and thought of taking his pic so I did....and then I returned back to my room all happy, all happy.....

Then next morning we had our flight. We boarded it and came back.....wow!!! I couldn't believe it. I had some real sleepless nights and fun filling thrilling moments in this trip. It was one trip I won't forget my whole life.....hehehe Here is the pic of Moya that I took. If you focus a little bit you will notice the card on the table just in front of Moya.