I recently went to watch the Sydney Medibank with two of my friends (Anita and Drazena). Went to two days, cos Rafa wasn't playing the first day. I'm in the sunnies with the weird face expression.
We train'd it to Olympic Park and took the shuttle bus to the tennis centre. The queues were long, but that's Drazena's fault cos she kept us waiting. Went to watch a few matches, including Jelena Jankovic, Marcos Baghdatis and Fernando Verdasco. They were pretty good.

We sat directly behind Marcos' supporters. There was a bunch of guys that came into the stadium during Hingis' match and Drazena automatically assumed they were Marcos' cousins, cos of how he said he has many suppporters in Australia. When his match on Centre Court was scheduled to begin, the same guys came in, this time with Cyprus and Greece flags. Guess she was right. They belonged to the Hellas and some, The Hellas Fan Club. It was interesting.

Dmitry Tursunov was also scheduled ot play in the twilight session, but Anita had to go home a bit early, so we missed out on that. He's one of my favourite players and I would've LOVED to have seen his comic antics on court and in person. Did anybody remember how hilarious he was during the Hopman Cup? Turned out that he pulled out from that match anyway, so I guess we didn't miss much.

Okay, we all wanna know about the Nadal match....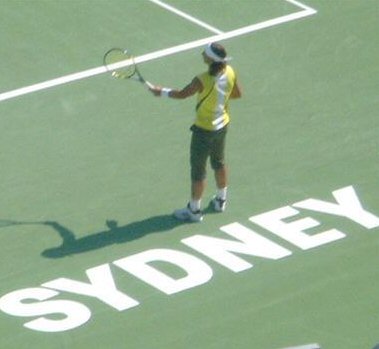 I was hysterically psyched yesterday morning when Drazena called to say she was coming to pick me up for a second day of tennis. She came late (AGAIN!) and this time the queue for tickets went DOWN the main road. It was horribly packed. It took us a good 35 minutes to finally get our tickets and we were on our way. James Blake was playing in Centre Court at the time and he's Drazena's favourite player, but she wanted to sit with the Serbian crowd to cheer on Jelena Jankovic against Australia's Samantha Stosur.
We missed out on Blake's match and she ended up kicking herself for it. I almost did too. Kicked her, that is. The line-up for today was very good.
We went around the tennis courts and saw Fernando Verdasco training. I don't think he's quite recognisable here cos not much people approached him. Tried to look for Nadal in the training courts, but he was nowhere to be seen. He probably went to find private courts to practice on, cos it would've been a frenzy if he did so here, or maybe he was just eating fish and pasta or whatever.

Anyway, we also saw some of Moya's match. He's still looking good. I sadly only saw ONE Spanish flag in the crowd. I started regretting not buying the red and yellow striped shirt I saw in the shops the other day or at least painted my face. Oh well.
Mauresmo was playing as well against Golovin on CC. We watched some of that and yeah. It was good. Pretty fast, though. There was also Gasquet playing, but we were too late from coming back from Maccas to see that one.

Nadal's face is imprinted on several Mercedes roaming the centre.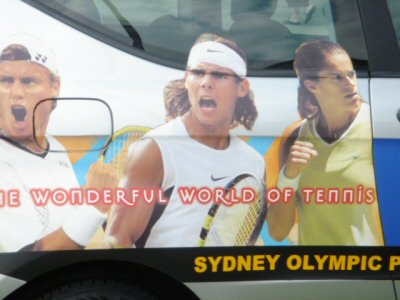 Clijsters was playing on Centre Court before Nadal, so we just stayed there. The stadium began to get packed and it was the most attendees that I've seen. And again, I only saw a single Spanish flag. Where are all the supporters? I should partially blame myself for that one though, cos I haven't got a single thing that represented the colours of Spain, except for my yellow Chucks and red Medibank Private flappers, which were issued out on entry into Centre Court.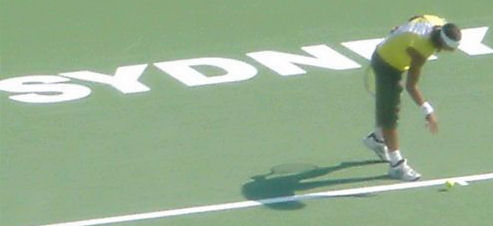 Nadal kinda got off to a bad start. Everyone could sense something was wrong, cos Guccione was a massive server and Nadal just wasn't responsive enough. I didn't understand though, cos his returns were more better than Guccione. The score was pretty level and everytime Guccione got a break, Nadal would instantly catch up. Though he played harder for his points than Guccione.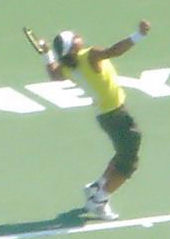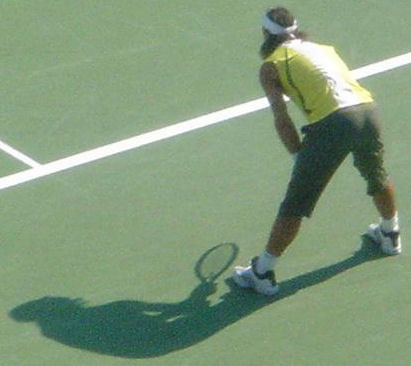 When Rafa was down 5-6, his physiotherapist I'm assuming came out and we could see them discussing something with the officials, then the commentator told us that 'DUE TO INJURY, RAFAEL NADAL IS RETIRING FROM THE MATCH.... AND CONGRATULATIONS TO CHRISS GUCCIONE FOR ADVANCING TO THE SECOND ROUND.'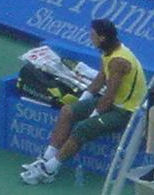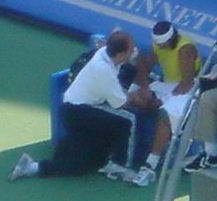 That was pretty much it for us Rafa Lovers. I was disappointed. I went to the Sydney Medibank International last year and he wasn't playing and I've been waiting a whole year to see him play, but I guess it would've been better anyway for him to get some rest before the Big One starts. I mean, it'd be a little selfish wanting him to play here just cos it's close to home.

I got some pics but the zoom in my camera is really bad. I hope this does youse enough justice.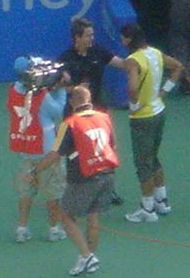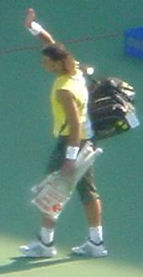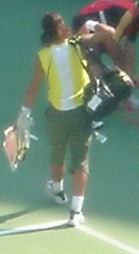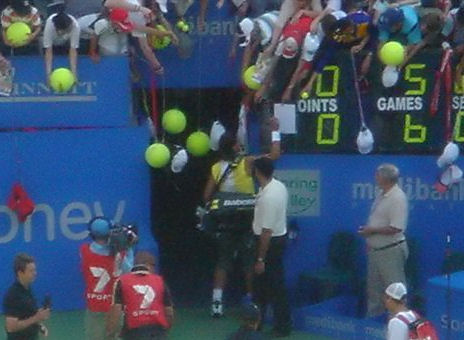 I'm pretty sad. I'm pretty sunburnt (not as much as last year) and I'm pretty tired. Overall, it was a good two days and I hope that he has a speedy recovery cos it'd be just as devastating if he missed out on the AO for the second time running.

Portions of the crowd boo'ed and it was a little like Shanghai '05. I guess it was hard to decipher, since everyone anticipated to watch him play. Then again, you can't force an injury and it would've hurted him even more. Aaaw

The interviewer than interviewd Guccione and asked him "what is it about you, centre court and Spanish players?" hence referring to last year's win over Juan Carlos Ferrero. That was a dumb question. Personally, IMO, the only great thing about Guccione is his whopper serve. Nadal has more technique on court and that's what got him the points, including the fact that he worked hard for them.

After that was Ana Ivanovic and Nadia Petrova. The match was alright, but I wasn't paying attention. The stadium quickly emptied, and I think there were probably about less than 1/4 of the people filling in each panel. Nadia retired during the second set cos of an injury. How coincidental. Two matches in a row. Both in Centre Court.

Drazena is such a pain. She made us walk ALL THE WAY BACK to Olympic Park station. Good one. My legs are now in pain pain pain.

Enjoy the recount! Hope it isn't too boring or anything. I've just woken up.